Halal Certificate WADA SUGAR
2014.07.09
2nd July, 2014
Wada Sugar Refining Co.,Ltd
To: Our valuable customer
Dear Sir / Madam,
 We are pleased to announce that Wada Sugar Refining Co.,Ltd has become the first ever Japanese sugar refinery to get Halal certification for its sugar products.
 In view of an increase in the expected number of Muslim visitors in 2020 Tokyo Olympics and growing demand for healthy Japanese foods in Muslim world, we believe that our halal certified sugar should be the best option for many food processing manufacturers.
 We look forward to serving you as a supplier of Halal sugar for your halal products.
 The details of Halal certified products are as follows:-
 1)    Certificate of Halal Authentication is issued by:
      Nippon Asia Halal Association
      Director Dr. Saeed Akhtar
      http://www.nipponasia-halal.org
2)    Date of issue : 16th June, 2014
3)    This certification covers following sugars produced at our Edogawa
     Factory (3-15-28, Chuo, Edogawa-Ku, Tokyo Japan)
    1.White Soft Sugar  
    2.Brown Soft Sugar
    3.Granulated Sugar
    4.Red Sugar
    5.Liquid Sugar
    6.Sugar Syrup/Molasses
4)    Halal Mark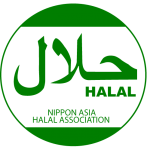 5)    Contact :  Wada Sugar Refining Co.,Ltd
                   Address : 2-4-3 Hamacho, Nihonbashi, Cho-ku, Tokyo, 103-007,Japan
                   Tel/Fax : 03-3666-0036/03-3639-5200     
                   Website :  http://www.wadasugar.co.jp